Almost extinct dolphins, 4000 islands on a river, waterfalls with class 5 rapids, and most of all... relaxation. See it here.

what do you read in this photo? kid plays with toy gun, while father smokes as he attempts to load a huge jack fruit onto a boat

our favorite Asian New Year tradition goes to Laos: arming their kids with water guns to douse anyone and everyone

loading up on BeerLao

Bungalows on Don Det Island

pulling into our bungalows on Don Khon

raft bungalows on Don Khon

rundown schoolhouse on Don Khon

styrofoam fed chicken… doesn't mean much that chickens here are free range then?

three motorbikes and satellite tv. all the essentials in life at this bamboo shack.

old french locomotive on Don Khon

part of Tat Somphamit waterfall

runoff of Tat Somphamit waterfall

part of Tat Somphamit waterfall

part of Tat Somphamit waterfall

beach near Tat Somphamit waterfall

Taking a dip in the Mekong River before our sunset Irrawaddy dolphin tour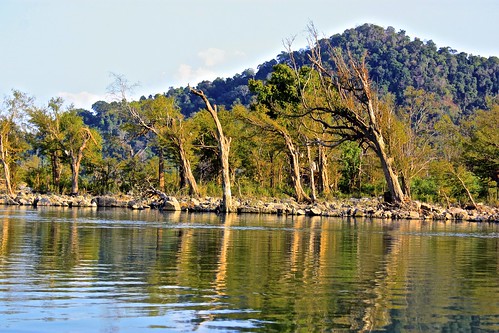 reflections on the Mekong river

rapids on the Mekong on our way to visit the Irrawaddy dolphins

local boat on the Mekong

local boat on the Mekong River

first Irrawaddy dolphin spotting

Irrawaddy dolphin spotting… notice their odd head shape?

sunset over the Mekong River

on our way back to the "dock"

more sunset on the Mekong

Mekong sunset reflections through the trees

Mekong sunset through the trees

ok so I really love these trees… along the Mekong

post Mekong sunset through the trees

attempting to finish a soccer game before all light is lost

dusk over a village

post sunset sky view from our bungalow on Don Khon

These kids were driving around spraying water at eachother for Laos New Year. The kid in the front had to bail.

or else… or else… I'll sit on your head… yeah

save on the "processing fee" by not having this guy take your passports across the border from Ban Nakasang
More 4000 Islands
For information on exploring the 4000 Islands, read tips for backpacking the 4000 Islands.
Which part of our island tour was your favorite? Let us know in the comments!