"Throwback Thursday is our series of photo essays from our trips of yesteryear. We took all of these vacations while employed in real (a.k.a. bimonthly paycheck) jobs, so don't let a tight schedule stop you from exploring the world!"
Few hotels in the world elicit the kind of jealousy as the St. Regis in Bora Bora. Hotels want to emulate them, friends dream of staying there, and movie stars spend more to vacation in their villas for one night than most people spend on their yearly mortgage.
Our superior overwater villa was over the top, bigger than our NYC apartment, decorated with designer furnishings, and complete with a huge overwater deck and see through interior panel which you could lift to feed the fish. At certain times of the day, you could also see stingrays swim by!
We felt pretty posh in our bungalow until we went for a swim and saw that other bungalows not only had on-deck jacuzzis, but also swimming pools. It's amazing how much money people can have!
Most of our time at the hotel was spent either on our deck or at the "adults" pool, which we basically had to ourselves. (We brought leftover champagne from the wedding to help keep down costs!)
The St. Regis offers free water sport rentals, so we tried our hand at the HobbyCat, only to learn to late that going out with the wind was a LOT easier than coming back to shore against it. After failing to turn the thing around for about 30 minutes, we had to be rescued by a jet ski from the Four Seasons. To say it was embarrassing would be an understatement.
The one "must do" Bora Bora experience is swimming with sharks and stingrays. Now that we scuba dive I don't find this that interesting, but back then, it seemed like a really cool thing to do. Unfortunately, the operator we went with was pretty crappy, so if you decide to do this, book through the hotel instead of striking out on your own. Keep in mind that they do feed the sharks and rays in order to get them to hang out, so if you're against this practice, this will be an excursion that you'd want to skip.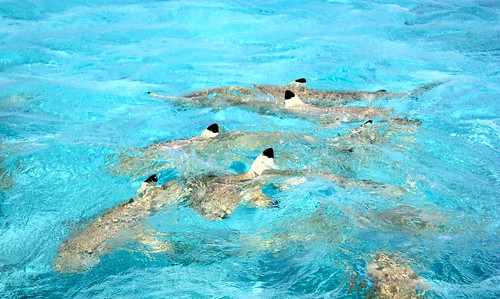 Now that we scuba dive, I'd say diving Bora Bora would be worth your time! If you're not certified though, there's a nice lagoon at the St. Regis for easy snorkeling.
The restaurants at the St. Regis were mostly celebrity chefs, and the food didn't disappoint, though it was extraordinarily pricey. We had a nice private dinner one night, complete with musical serenade and a waitress who had no idea how to fillet a fish.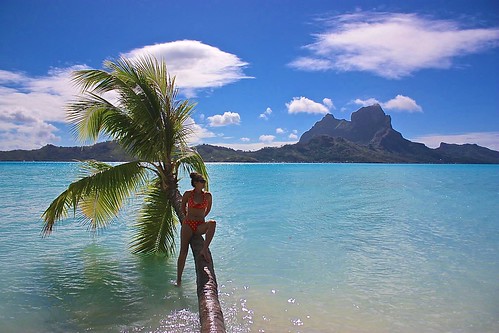 One big plus about the St. Regis is that they provide free transfers to the mainland, which lets you check out some of the restaurants, including award-winning Villa Mahana. Getting reservations here is tough, with the eight tables booked out months in advance, so we were psyched when our travel agent was able to snag a table during our Bora Bora stay.
Unfortunately, the weather didn't cooperate. There was a typhoon in Japan (or something of that matter), which caused strong winds and swells throughout the Pacific. Many of the Bora Bora resorts were flooded and had to be evacuated, but we just experienced the side effect: no way to get to the mainland for dinner.
Rob was bummed, as our reservation was for our last night, but we were thankful to be dry and safe (and not have to leave our hotel). Instead of eating at Villa Mahana, we spent the night looking at the ocean, which had risen at least two feet in a few hours. It's pretty scary to think about the ocean rising that much when you're in the middle of it!
Did we love Bora Bora? Yes! It's hard not to when you're staying at a beautiful resort with your own personal butler and a yacht that takes you to and fro.
Would we go again? Probably not. In addition to being really pricey, the St. Regis and Bora Bora just felt a bit too "done" for us. The locals weren't friendly as they were too used to tourists, the other guests at the hotel seemed either snotty or were there on points, and the island wasn't as beautiful as the other places we've been lucky enough to visit.
What Do You Think?
Would you go to French Polynesia despite the cost? Where did you go on your honeymoon?
More Throwback Vacations
Interested in reading and seeing more about the vacations of our past? Check out our Throwback destinations.